SPS Marketing and Pricing Plans
Guarantee
We guarantee you will love our service.
If you are not happy with any aspect of our service we will refund you for the full amount of the membership services used or the cost of sign riders.
Free Service
Listing Agents can use SPS for FREE when working to win listings. In other words, you can create multiple Property Websites, present them to prospective clients with the Free View™ and use this method to win listings - all for free.
Membership Subscription
Once you win the listing,you will want to turn ON a property site and start to market it, at which time you will need a Membership.
Membership has a Monthly Fee that determines the maximum number of Listings you want to Market at any time.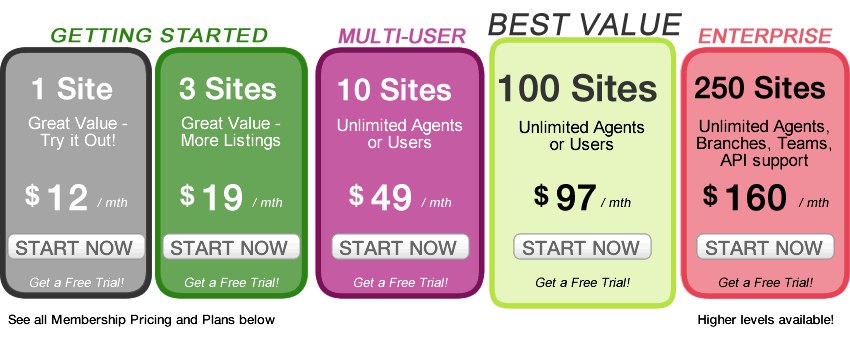 There is NO upfront fee per listing, SPS allows you to make ANY listings LIVE upto your Membership level.
Your Membership subscription level determines the maximum number of sites than can be ON at any time.
If you sell or lose listings, turn them OFF - and then turn ON another in its place!
With SPS Membership you have a totally re-usable service allowing you to turn ON and market any number of listing websites up to the maximum level you have subscribed to.
SPS services are charged monthly, only as you need them!
There are no contracts. You can change levels, or cancel at anytime. You have complete control.

Create Single Property Sites for helping to win listings for free more..
Always Free and UNLIMITED
Marketing and Promotion of Properties more..
Included
Lead Capture and Inquiries more..
Included
Reporting and Tracking more..
Included
Street Address URL more..
Included
Mobile Property Websites
more.. Included
Multi-user system more..
level 10 and higher
Enhanced Lead Capture Service more..
Free for Level 15 and higher
$1 per listing per month for levels 1 to 10.

MEMBERSHIP LEVELS
(how many listings are being Marketed at Any Time)

Level 10 and Higher allows for full mult-user access
Level 15 and Higher Includes Enhanced Lead Capture Service

MEMBERSHIP
Price per Month
Equivalent
Cost / Listing
Any 1 Listing
$12
$12
Any 2 Listings
$14
$7
Any 3 Listings
$19
$6.33
Any 4 Listings
$24
$6.00
Any 5 Listings
$29
$5.80
Any 7 Listings
$38
$5.43
Any 10 Listings
$49
$4.90
Any 15 Listings
$63
$4.20
Any 20 Listings
$73
$3.65
Any 30 Listings
$80
$2.57
Any 100 Listings
$97
$0.97
Any 200 Listings
$150
$0.75
Any 250 Listings (Enterprise)
$160
$0.64
Any 400 Listings
$200
$0.50
Any 500 Listings
$250
$0.50
Any 600 Listings
$300
$0.50
.. and more! Your SPS account can support any number of listings.

Enterprise Solution is avaiable at the 250 listings level. This includes support for Single Sign-on APIs, API for property and agent data daily import and synchronization.

With your paid Membership, you have the ability to TURN ON any number of sites up to your membership level. When sites get turned OFF (sold, rented, off-market etc), then you may TURN ON another in its place immediately!

Sold/Rented etc Listings stay 'LIVE' for free.

Upgrading? You will only be charged a pro-rated fee!

Optional Services

Domain name (OPTIONAL)

$12.99

for 1 years registration


NOTE: Every Site will be given a FREE property address URL such as: http://1122MainStreet.2Seeit.com
You can even use your own main domain name!

Sign Riders (OPTIONAL)

$18.00

ea. + $4.50 postage for up to 3 riders
ENHANCED LEAD CAPTURE Services includes:
Unlimited 1-800 call-capture, Recorded Info By Phone, unlimited SMS TEXT lead capture and CLICK TO CALL call-capture on every listing.

FREE for levels 15 and higher

For Level 1 to 10: $1 per listing per month extra (optional)

REALTOR.COM (OPTIONAL)
(free if you have enhanced listings with Realtor.com)

$24.00

per Listing