Here's How To Dominate your Listing Market with SPS!
Here is a selection of real examples showing you How To Use SPS as part of your real estate marketing!
Never Lose a Listing!
Basic-SPS (free) helps you to Dominate your listing market by first ensuring that you never lose a listing again.
Convert Leads to Listings - for Free!
Showcase the Sellers home for FREE with our FREE-VIEW™ system! Take a look and see what you could create in about 15 minutes.
See a Single Property Site example
Impress Sellers before You Even Meet Them!
Sellers love to see their home with its own website!
Upload unlimited digital photos and SPS automatically generates your SlideShow Tour!
See a Virtual Tour and Photo Zoom example
Single Property Sites look like this: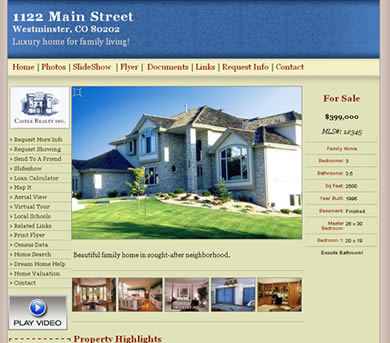 Sell Listings Faster!
Pro-SPS makes sure Buyers see Your Listing First - give all your listings Maximum Exposure to Buyers with Minimum Effort: Website, TEXT, Mobile and Curbside
Maximize Listing Exposure Automatically!
SPS Automates so much for you, including:
Lead Capture
Mobile Marketing
Feeds
Syndications
Craigslist
Widgets
REALTOR.COM
and more...
Here are some examples...
See a Craigslist Flyer example
Automatically post to craigslist - nothing to copy and paste - just 'click' and be done!
Mobile Marketing TEXT Flyer example
SPS makes it easy and automatic for you to engage with the mobile buyer.
Widget example
Put ALL your listing data on every other website!

Want to Learn More?